Salespeople are busy. Really, really busy.
So to maximize your ability to close deals, you need to spend as much time as possible on high probability opportunities.
This is also known as, "stop wasting time on deals that will never close."
Knowing what leads deserve the most attention is the key to outperforming as a salesperson.
So in this article we'll look at exactly how to qualify your B2B prospects like a pro.
Not Everyone Is A Prospect
If you've been in business for a while you've probably noticed that your best customers share some similar characteristics.
And you've probably noticed the same thing about your least favorite clients, too.
Start qualifying prospects by identifying the characteristics you find in your best clients. After all, how can you qualify a prospect if you don't know what a great client looks like?!
In what industries can you add the most value? How about other demographic characteristics, like company size?
How do you meet your best clients? Do they all originate from a b2b appointment setting company? Or a different marketing channel?
Or perhaps they all took the same actions on your website before becoming a lead. Like downloading an ebook or visiting a certain page.
To qualify prospects, it helps to have a model to compare against. So you know exactly what you're looking for in a new client when you see it.
Don't rush this process. Figure out exactly what you like about your clients. And figure out what actions they took on the journey to working with you.
Basic Prospect Qualifying
The simplest way to qualify prospects is to combine demographics with high-probability behaviors.
For example, say you know your ideal prospect is the CFO at a manufacturing company with more than 100 staff. When a lead comes in, you can compare how closely the opportunity matches your ideal lead.
You then combine that profile information with actions that you believe reflect a high level of intent.
Your website has many pages on it. But some of those pages reflect a higher level of buying intent, than others.
Someone who visits a generic blog post on your website and then leaves probably has no interest in your solution.
But what if they visit your website through a service page, and then visit your pricing page? And after that download an ebook related to your service offering? It's safe to say they're a pretty good prospect.
And you should move opportunities like that over to sales for further exploration.
Find External Triggers To Qualify Leads
Not all your perfect prospects have to do something on your website.
Sometimes indicators of high closing potential happen elsewhere.
So make a list of things your absolute best, most qualified prospects are probably doing.
Then figure out what traces that will leave on the internet.
For example, commercial real estate agents should look at job listings. If the client is hiring like crazy it's a good sign they are expanding and need more space.
The hints you need about your prospect's real situation are out there, somewhere. Ask your virtual sales assistant to find them!
Need More Qualified B2B Leads?
Meet decision makers that need your solutions
With the advancement of the internet, everything related to selling got turned on its head.
Sellers no longer need to rely on salespeople for information. They can do their own research. And then make informed decisions without any pressure from salespeople.
But online research goes both ways. Just as the internet has empowered buyers, it works for sellers, too. One big way the internet has changed selling is how we qualify prospects.
Minimalist Forms
In the early days of the internet, some companies used lengthy sign up forms on their websites. They wanted to know more about the prospect before giving them a call.
These days, this approach doesn't make any sense. With the prospect's email address you can find all the information you need. It just takes a bit of effort.
Ditch The Acronyms
The BANT (Budget, Authority, Needs, Timeline) model for qualifying prospects was created about 55 years ago by IBM. At the time it was a revolutionary approach to selling. And is still in use today.
Since BANT, other sales qualifying models have been popularized. Here are a few:
CHAMP: Challenges, Authority, Money, Prioritization
ANUM: Authority, Need, Urgency, Money
FAINT: Funds, Authority, Interest, Need, Timing
These lead qualification models still have a role to play. But they are losing relevance in the modern age. These models answer two questions.
First, does your prospect have the ability to buy (ie authority, budget).
Second, is whether they have a high intention to purchase (ie interest, need, timing).
A bit of online research will uncover the answers to many of these questions. You can do a lot of qualifying before you even meet!
Qualify Leads Before Meeting
In the old days, you would have to meet with someone to know if they are a qualified lead. You'd ask lots of awkward questions that might elicit truthful answers. And you'd potentially spend half a day meeting with someone with no authority or budget.
Fortunately those days are behind us.
Now online research makes it possible to answer many questions before you need to travel.
Budget: Research the company you are meeting with online. If you're selling a $500 / month service and they have 40 employees you are good to go. There's no need to ask whether they can afford your solution. If they can afford a 6 figure monthly payroll then they can afford $500 for your solution.
Authority: Using Linkedin and their website resources you can map out the likely stakeholders.
Look at whether the person you are meeting with is senior enough to influence the buying decision. If not, ask who will be the ultimate decision makers. And suggest they join the meeting to make it as productive as possible.
Priority: Need is very difficult to quantify. But in many industries, level of interest can be established before you even meet.
Some companies will have made public statements about their intentions going forwards. It's common for the CEO to make an announcement about space expansion, hiring, new product lines, and partnerships. Or other statements that are relevant to your solutions.
When you know what's a priority for the company, you know whether they need your solution.
Salespeople are a bit like doctors. Your job is to identify and then alleviate pain.
If your prospect doesn't have pain, you don't have a prospect.
So your first job in qualifying is to discover whether they have a problem they're itching to solve.
To find out, ask open ended questions. Focus on WHY they are meeting with you. And about their experience to date. For example:
What have you tried so far?
What prompted you to contact us?
Why is that important?
Uncovering your prospect's pain points is an important process for them, too.
Exploring their requirements will help them better understand their business goals. And may uncover some urgency they didn't know they had.
Use Marketing Automation To Qualify Prospects
Consider what you need from your prospects to deem them 'qualified'.
Depending on what you require, you may be able to do most of the work automatically using marketing automation.
In tools like Pipedive you can enrich your lead data at the click of a button. This can potentially save you hours on lead research. And help you qualify your demographic criteria instantly.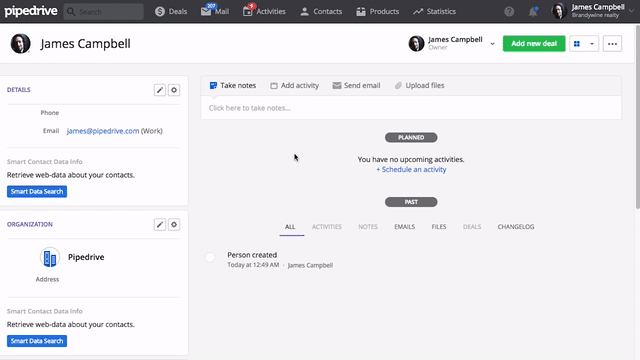 When qualifying prospects, you need a way to differentiate between general interest and real intent.
Someone reading your recent blog article has demonstrated general interest in your company. This isn't enough to suggest they are a strong lead.
But what if they spend 4 minutes and 12 seconds reading a bottom-of-the-funnel service page? And then click on the 'call now' button for more information. They could be a great lead, regardless of their demographic profile.
If you can qualify on actions alone then explore marketing automation and analytics tools. You'll get more insights into your audience's behaviors while on your website.
One of the hardest lessons to learn is to let prospects go.
You can't be everything to everybody. A strong qualifying process will tell you if you're the right fit for a prospect.
Or if they're the right fit for you.
There's no shame in identifying a mis-match. Prospective clients will appreciate your candor. Doubly so if you can point them in the right direction.
So how do you qualify your prospects? I'd love to hear what works well for your organization. Message me on Linkedin and let me know.
Need More Qualified B2B Leads?
Get The EXACT Steps We Used To Book Over 3600 Meetings